Mildred Pauline Williams was b:Oct.1,1910 She went to be with the Lord on March 23, 2006 11am in Tarzana, Ca. On Apr. 2 she will be cremated and her ashes spread across the Pacific Ocean. She was Married to John Ellis Sawyer May 15,1928 in Donna, Tx. She was the daughter of Alvin Williams and Elsie Nolan.
William Carl Bozeman
1927 - 2006
William Carl Bozeman, 78, a flight mechanic, passed away Monday, Feb. 27, 2006, in Fort Worth.

Graveside service: 11 a.m. Tuesday, March 7, in Dallas-Fort Worth National Cemetery. Visitation: 6 to 8 p.m. Monday at Davis Funeral Chapel, 6912 NE Loop 820.

Memorials: Salvation Army, in lieu of flowers.

Mr. Bozeman was born May 16, 1927, in Lelia Lake. He served in the U.S. Army in World War II.

He was preceded in death by his wife, Earline Wright Bozeman; parents, James W. Bozeman and Bessie M. Bozeman; four brothers; and three sisters.

Survivors: His sons, Sammy Carl Bozeman of Fort Worth and William Earl Bozeman of Trophy Club; sisters, Frances Runs Through of Bedford and Thelma Dacus of Athens; and grandchild, Sheila Bozeman of Bedford.
Published in the Star-Telegram on 3/5/2006.

---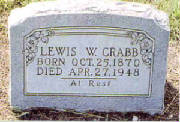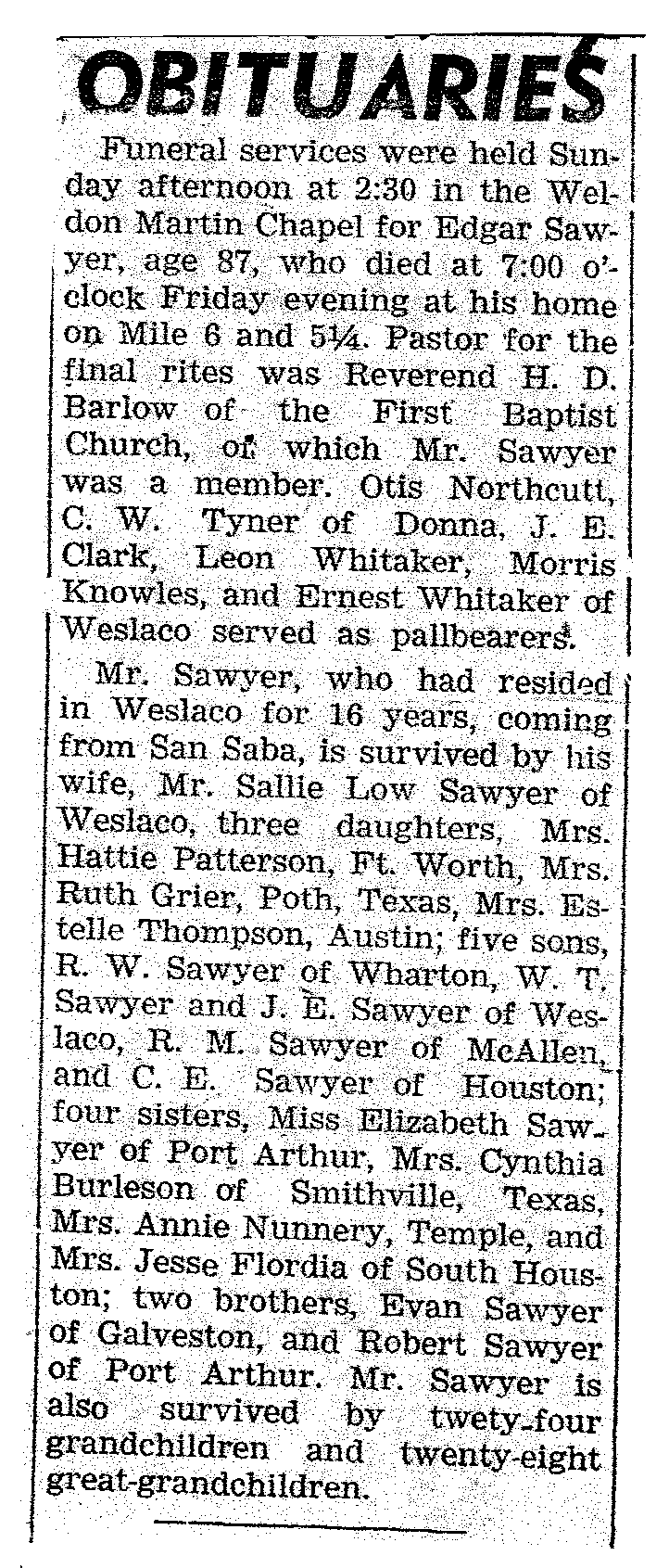 George D. Thompson
Dr. George D. Thompson of West, died Monday, July 31, 2006, after a long battle with Alzheimer's Disease. The funeral service will be at 11:30 a.m. on Wednesday, August 2, at Wilkirson Hatch Bailey Bosque Chapel, 1601 Bosque Blvd with the Rev. Ron Durham officiating.Burial will follow at Oakwood Cemetery.Visitation with the family is from 6 to 8 p.m., Tuesday, August 1 at Wilkirson-Hatch-Bailey Garden Room. Dr. Thompson was born in Hillsboro, Texas, on Aug. 12, 1924, to Anderson Eugene Thompson and Flora May Simmons Thompson. He entered the United States Army Air Corps immediately before graduating from Hillsboro High School. He enlisted on April 15, 1943, and served three and a half years. After training in several bases in the United States, he spent the later part of the war in the China, Burma India Command and flew "The Hump" as a Navigator-Radio Operator in C 46 and C 47 planes. After his discharge in 1946, he started his college work at Hillsboro Jr. College. From there he transferred to Baylor University, Waco, and in May 1949, graduated with a BA Degree, majoring in psychology with a minor in education. In August 1950, he received his M. A. with a major in counseling and guidance with a minor in Clinical Psychology. Several years later he returned to Baylor University, and earned his Ed. D degree in June 1961, having a major in administrative education and a minor in curriculum and supervision. On June 9, 1949, he married his wife of 57 years, Martha Demetra Musgrave Thompson at the First Baptist Church in Hillsboro, Texas. His teaching experience included every level from elementary through High School in the Edinburg Texas School system. His administrative work began at LaVega Independent School District, Waco, Texas in 1954 as Pupil Personnel Director. In 1955 he was made Assistant High School Principal, and in that year he was elected Junior-Senior High School Principal. From LaVega, he moved to Alvin Independent School District, Alvin, Texas for the 1960-64 years as High School Principal. The move was then made to the Port Arthur Independent School District, Port Arthur, Texas as Director of Secondary Education, and later was made Assistant Superintendent of Instruction until 1974. The summer of 1974, he moved to the Rio Grande Valley as Professor of Education at the University of Pan American. He enjoyed the teaching of teachers in courses toward a degree that would qualify them for Middle Management Educational positions. In 1985, he retired to the work of running a small ranch near Aquilla on land he dearly loved. A number of his hobbies included the collecting of rare books, specializing in Winston S. Churchill, the American Civil War, and Texana, along with ranching, and public speaking. Some of the activities that he felt were meaningful were his becoming a deacon while at First Baptist Church in Edinburg. He served as an active deacon while in Alvin and Port Arthur. It was while in Port Arthur that he did much of his civic duties. He was Vice President of the United Community Services, a member of the Port Arthur Chamber of Commerce, a member of the Rotary Club and president in years 1971-1 972. Several other organizations could be named. He was a consultant or director at six different universities with the Texas Association of Student Councils in summer workshops. At the time of his death, Dr. Thompson was a member of Columbus Avenue Baptist Church and Dr. Cresson's Bible study class, which he dearly loved. When it was apparent that he could no longer attend, his concern was who would get the doughnut holes for his class. George was preceded in death by his parents; one sister, Mildred Estelle Thompson; and one step-sister, Dorothy Marie Crouch of Hillsboro, Texas. Family was one of the most important things in George's life. His grandchildren knew that if they were to be with their grandfather they were expected to learn at least one thing. Survivors include his wife, Demetra Musgrave Thompson, of West, Texas; sons, George David Thompson and wife, Kay McCoy Thompson of West, Texas, and James Eugene Thompson and wife, Vickie Jones Thompson of Abbott, Texas; six grandchildren, David Benjamin Thompson and wife, Jamie Harris Thompson, Daniel Lee Thompson, and Whitney Lynn Thompson Mechell and husband, Brian Mechell, all of West, Texas, Seth Anderson Thompson and wife, Sarah WoodardThompson of Waco,Texas, James Aaron Thompson of Waco,Texas and Garrett Dee Thompson of Abbott, Texas. His sisters include Dorothy Mae Carter, of Hillsboro, Texas,Enna Juanita Thompson Holgerson, and husband, Oscar John Holgerson of Clifton, Texas, Betty Jo Hughes Harris of Hillsboro, Texas and Mary Evelyn Hughes Brown of Hernando, Miss. His brothers include Billy Dale Thompson and wife, Yvonne Elizabeth Thompson of Red Oak, Texas, James Robert Hughes of Tulsa, Okla., and John Derrell Hughes Jr., of Hillsboro, Texas. Seven great grandchildren and many nieces and nephews also survive him. The pallbearers will be George's six grandchildren. The honorary pallbearers will be Dr. Mike Reis, Dr. Bruce Cresson, Billy Davis, Roy Lipe, Calvin Bell, Lonnie Richardson, Oscan Holgerson, L. Etter, Larry Willenborg and Lee Moore. Memorials may be made to the Wesley Woods Alzheimer Care Center in Waco, or the building fund for Columbus Avenue Baptist Church. The family invites you to leave a message or memory in our "Memorial Guestbook" at www.wilkirsonhatchbailey.com. August 12, 1924 - July 31, 2006

Published in the Waco Tribune-Herald on 8/1/2006.
MILDRED THOMPSON

16 Mar. 2003


Mrs. Mildred E. Holman Thompson, 76, of Hillsboro, died Sunday, March 16, at her residence. Born July 29, 1926 in Hillsboro, she was the daughter of the late Anderson Eugene and Flora Mae Simmons Thompson. She grew up and attended school in Hillsboro. She worked in the telephone industry for 16 years as an employee for Southwestern Bell. She was a Baptist. She was preceded in death by her stepmother, Thelma Thompson. Survivors include: two sons, Tommy Holman of Hillsboro and Johnny Holman and wife, Dorothy, of Itasca; one daughter, Kathy Goldsmith and husband, James, of Waco; two brothers, George D. Thompson of West and Bill Thompson of Red Oak; two sisters, Dorothy Carter of Hillsboro and Juanita Holgerson of North Dakota; two half-brothers, John Hughes of Hillsboro and James Hughes of Tulsa, Oklahoma; two half-sisters, Betty Harris of Hillsboro and Mary Brown of Hernando, Mississippi; one stepsister, Dorothy Crouch of Hillsboro; five grandchildren; and two great-grandchildren. Graveside services were held Tuesday, March 18, at Hillcrest Garden of Memory in Hillsboro with Dr. Brian Whitney officiating.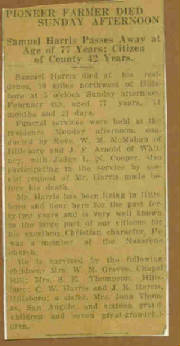 Samuel Harris's Obit
Click to enlarge
Aaron Burleson headstone

Born Oct 10, 1815

Died Jan ? 1885
Alexander B. Preece,B:1802, patriarch of all the Preece's from Martin County, KY.
Alex is buried along Coldwater Creek, in Martin County, He is the son of Richard L. Preece.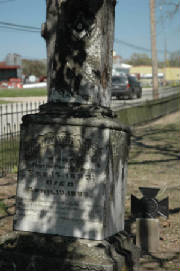 Old City Cemetery, La Grange, Fayette County, TX

JOHN W. RABB
BORN
Fayette County Texas
FEB. 14. 1833:
DIED
APRIL 10. 1885

The hearts keen anguish only these can tell
Who've bid the dearest and best farewell
The parting with our treasure, once our pride
More prized and honored than the world beside.

Henry Harvey Priest/Preece
buried Preece Cem.
Martin Co., Ky.

Hiram J. Priest/Preece
buried National Cem.
Knoxville, Tn.
Picture was donated by Donna Baxter